How To Detect A Gas Leak In A House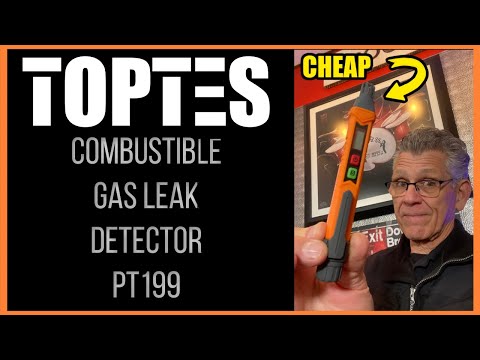 There are many ways to detect a natural gas leak in a house, from a simple bubble test to high-end gas-sniffing devices costing hundreds of dollars. The people from TopTes (makers of an inexpensive gas leak detector) reached out to me on my BPV Facebook page and asked if I would consider featuring their product in one of my videos.
They were kind enough to send one over and I said if it stands up to the test, I'll be happy to post a video. My opinion when it comes to finding gas leaks in your home is to always call in your licensed professional or local utility. That being said, for the price point of this product and the fact that it does detect leaks quickly, you might consider keeping one handy in that misc. kitchen drawer
If you suspect a gas odor, you can turn it on, let the tool calibrate and at the very least find the source. Then you can call in your licensed professional or local utility to make a proper repair. This video is a basic overview of the PT199 and its capabilities. Use caution when dealing with any type of combustible gas leaks.
Regards & Happy Plumbing
Bob
TopTes PT199 Natural Gas Leak Detector
https://amzn.to/3BVgDpo
https://amzn.to/3YMST0i
My Amazon Storefront
https://www.amazon.com/shop/bobsplumbingvideos
Disclaimer:
My Videos are provided for informational purposes only. All material provided within this website is for informational, educational, & entertainment purposes only. Some of these projects, materials, and techniques may not be appropriate for all ages or skill levels. The plumbing instruction used here is used to simply break down jobs into their simplest steps.
Please use a clear mind and use all safety precautions following the tutorials provided by this site. I do not make any claims of the safety of the projects, techniques, or resources listed on this site and will not take responsibility for what you do with the information provided by this site.
Viewers must be aware by doing projects on their homes they are doing it at their own risk and Bobs Plumbing Videos cannot be held liable if they cause any damage to their homes.
With different codes around the world and constantly changing standards, regulations, and rules, it is the sole responsibility of the viewer to educate themselves on their local requirements before undertaking any sort of project. That being said Bobs Plumbing Videos cannot claim liability with all applicable laws, rules, codes, and regulations for a project. Be safe, have fun with your plumbing repairs, and ALWAYS stay informed about your local building code.
*NOTE: The description above contains affiliate links that allow you to find the items mentioned in this video and support the channel at NO COST TO YOU. While this channel may earn minimal sums when the viewer uses the links, the viewer is in NO WAY obligated to use these links. Thank you for your support!